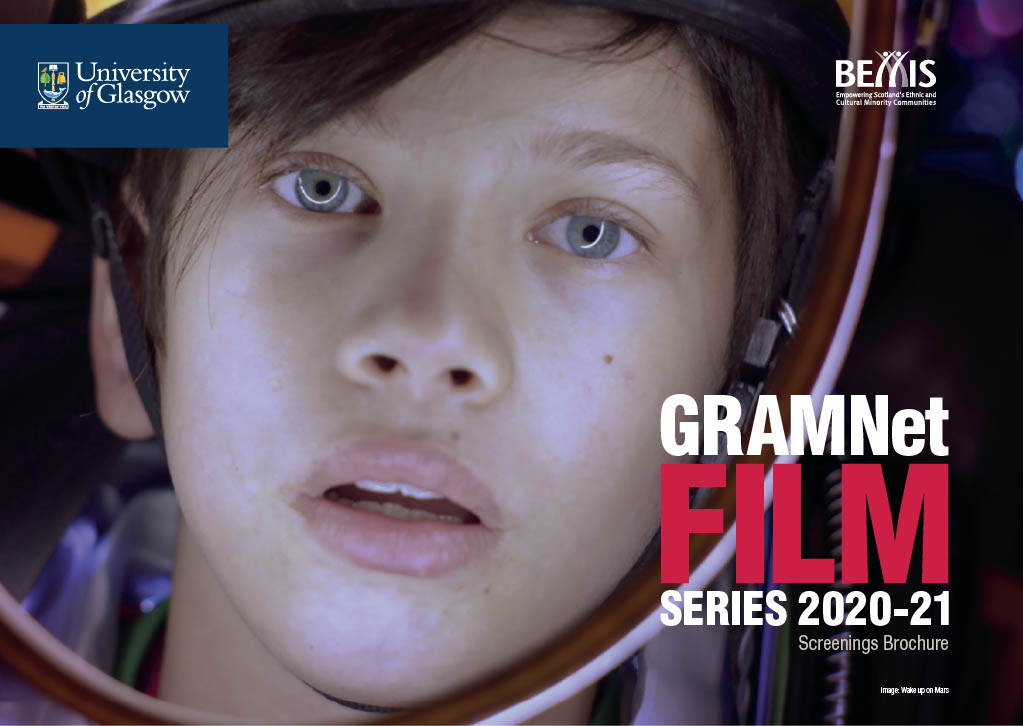 This year, the GRAMNet/BEMIS Film Series returns in a digital format at first, and an abundance of possibilities of stories to discover and ways to engage.
For months we've been struggling with a pandemic and being locked out of social life, as well as facing political and economic changes, heading towards an uncertain future. Movement and other basic human rights became even more restricted and the experiences of refugees and asylum seekers from all over the world even more difficult. For this reason, we are hoping that the GRAMNet Film Series 2020/21 will bring some comfort, hope and a space for togetherness, albeit virtually for a while.
Rather than adapting to a 'new normal', in this series we will choose the abnormal, the unusual, the extraordinary. We will continue our monthly screenings inspired by global events and occasions with a touch of escapism and imagination. There will be more fiction filmmaking, animation, quirky characters and heartfelt stories, starting with the protagonist of our opening film (Wake Up on Mars), a 10-year old boy who dreams of flying to Mars to escape a harsh reality to the cultures and languages of the people living in the Arctic (Anerca, Breath of Life).
Find out about Sommai, whose matchmaking skills brought hundreds of Thai women to marry Danish men and sometimes, some of them even discovered love (Heartbound). Join Wardi, an 11-year old Palestinian girl, as she tries to uncover her family and her people's history (The Tower).
Join us in watching these incredible films from your home screens, for the first few months at least and meet us for live conversations online. Once it is safe to go back in our second home – the Centre for Contemporary Arts – we will welcome you with open arms!
The discussion events will take place live on the date mentioned in this programme and they will be free and open to everyone. The films will be available for a limited time leading up to each of those dates. To find out how to access the live events and online screenings, go on our blog and website and don't hesitate to get in touch.
---
GRAMNet is very grateful for the generous support we receive from our partners, sponsors, distributors and directors so that we can keep our film series free and open to all. Developing this work with the Equality and Diversity Unit and our long-standing partners in the film series BEMIS, as well as UNESCO Chair for Refugee Integration through Languages and Arts, Iona Community and Document Human Rights Film Festival.
Screenings are accompanied by forums and Q&A for everyone to share their views and thoughts in a friendly and supportive atmosphere. The audience is warmly invited to congregate in the Centre for Contemporary Arts (CCA) Café following each screening to continue our informal discussions.
Sponsored by GRAMNet, BEMIS Scotland and the Iona Community, with the support of UNESCO Chair – RILA, Document Human Rights Film Festival and the Equality and Diversity Unit at the University of Glasgow.
Live discussions online & screenings in physical spaces will start at 6pm, unless otherwise stated.
Screenings
| | | |
| --- | --- | --- |
| Date | Film(s) | Observance |
| 21 October 2020 | Wake Up On Mars | Film Series Launch |
| 18 November 2020 | Rocking the Nation | International Day of Tolerance |
| 16 December 2020 | Eyimofe (This Is My Desire) | International Migrants Day |
| 27 January 2021 | Who Will Write Our History | Holocaust Memorial Day |
| 17 February 2021 | Ayouni | World Day of Social Justice |
| 17 March 2021 | Heartbound | International Women's Day |
| 21 April 2021 | Anerca, Breath of Life | English Language Day |
| 12 May 2021 | The Tower | Nakba Day |
| 16 June 2021 | TBC | World Refugee Day |