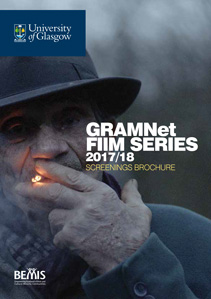 The 2017/2018 Film Series is organised in partnership between GRAMNet and BEMIS Scotland. The films we have selected this year come from all over the world, including Australia, Czech Republic, Palestine, Norway and Scotland with an especially strong component of the series coming from the African continent.
As usual the series also showcases a mix of filmic devices and dramatic styles: one, a Scottish short with no dialogue whatsoever; another one in which animation depicts horrors that the camera cannot access; and our closing film in the series an intimate and touching portrayal of a 3-year-old who makes her way from a war-stricken country to Sweden – is filmed one meter from the ground for an immersive filmic experience from the perspective of a child. As ever, the resoundingly strong message throughout the series is that human beings persevere, co-operate, and bring each other hope in places and times where it is sometimes in short supply.
Screenings are accompanied by forums and Q&A for everyone to share their views and thoughts in a friendly and supportive atmosphere. The audience is warmly invited to congregate in the Centre for Contemporary Arts (CCA) Cafe following each screening to continue our informal discussions.
Events are free of charge and open to everyone
Sponsored by GRAMNet, BEMIS Scotland, the Iona Community, with the support of the Equality and Diversity Unit at the University of Glasgow.
View the full series programme (PDF)
Screenings
Date
Film(s)
Observance
11 Oct 2017
Constance on the Edge
Film Series Launch
8 Nov 2017
Wallah – Je te jure
International Day of Tolerance
13 Dec 2017
Wigilia
The Hide
Scotland's Memoir
International Migrants Day
24 Jan 2018
A Hole in the Head
Holocaust Memorial Day
7 Feb 2018
Honey at the Top
World Day of Social Justice
14 Mar 2018
Bolingo, the Forest of Love
International Women's Day
18 Apr 2018
Broken Word, Broken World
English Language Day
16 May 2018
Salt of this Sea
Nakba Day
20 Jun 2018
Cancelled
69 Minutes of 86 Days
World Refugee Day